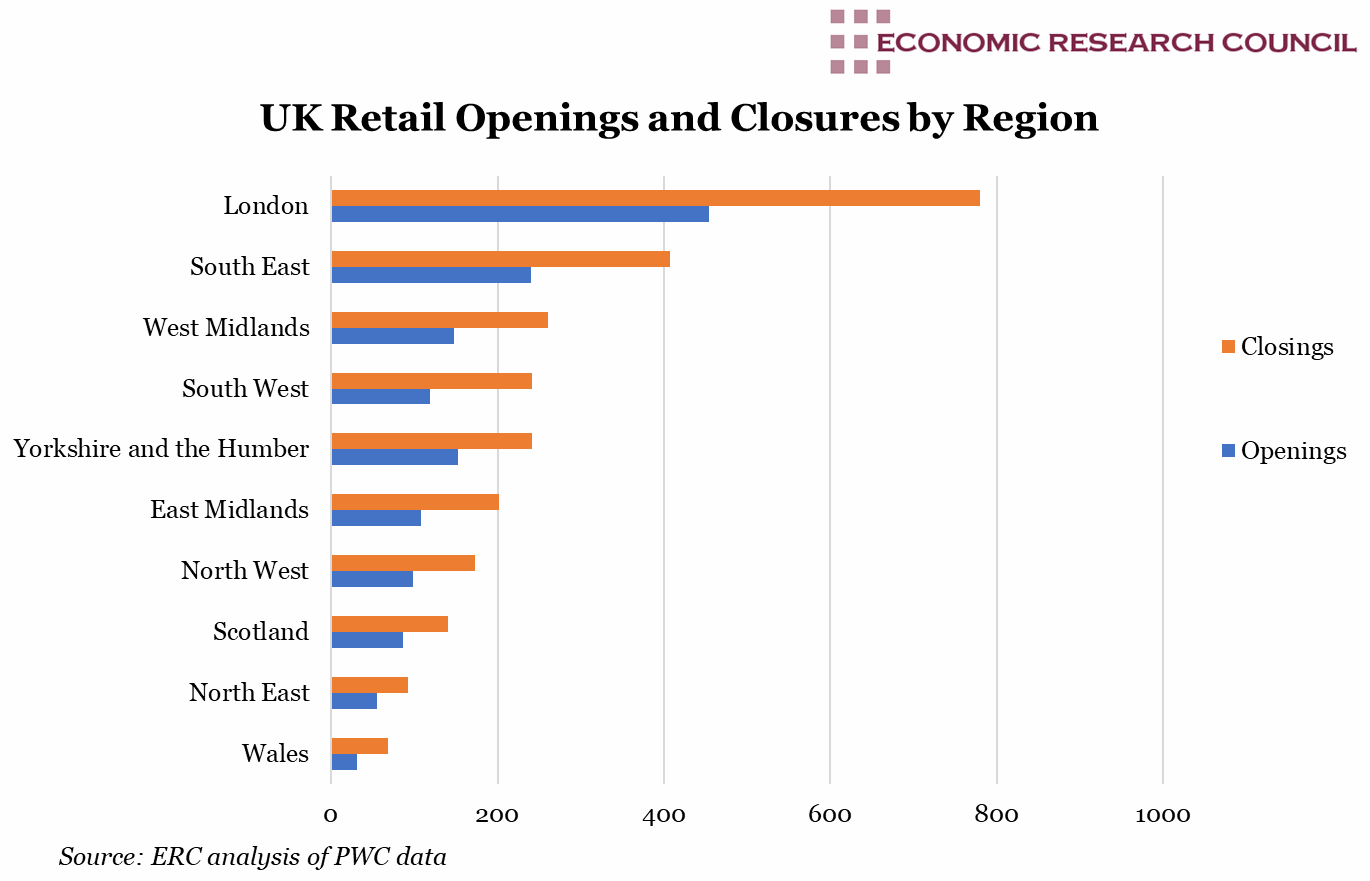 Summary
The differential between store closures and openings has reached a five year high in the first half of 2019, where a net 1,234 shops closed doors on Britain's top 500 high streets. This constitutes around 16 shop closures each day across the UK, often in response to increasing proportions of business moving online. The biggest net declines in physical retail outlets were in fashion, restaurants, estate agents and pubs, which all saw around 100 or more closures in the first six months of this year. Indeed only 15 out of 96 retail sectors enjoyed net growth. However, the state of new retail openings is improved on last year, with around 9 openings per day, up 4.1% on last year.
What does the Graph show?
The chart displays the number of shop openings (in blue) and closures (in orange) for the various regions of the UK. The data is from a report by PWC and covers the top 500 high streets over the  first six months of 2019.
Why is the chart interesting?
The biggest areas of decline included fashion, an industry that has been under immense pressure from online retailers. There was a net loss of 118 stores, mainly driven by administrations rather than CVAs. This trend of store closures is likely to continue in the latter half of the year, although an exception has been smaller brands who have opened new locations. There were 144 fashion retailer openings in the first half of 2019 involving a mix of designer and high-street labels. Premium or niche brands have accounted for a greater proportion of openings, as in-person interaction has remained an integral part of customer experience in this sector. Value fashion retailers have opened fewer stores and have been more affected by online players as well as a move away from 'fast-fashion' as consumers grow more environmentally aware.
The US is considered a strong potential market for future growth with nearly a quarter of all British luxury branded goods already sent there. The overwhelming majority currently however go EU states and per the British Fashion Council, a no-deal Brexit could cost the industry nearly £1 billion per year in lost revenue.
Much has been made of recent changes to business rates and their impact on the high street. After government re-evaluation, 510,000 businesses will face business rate increases while 920,000 will see their rates decrease. The threshold for Small Business Rate Relief was increased, meaning that many smaller businesses will now pay lower or zero rates. Quoted by the BBC, a government spokesperson said, 'We have introduced over £9 billion worth of business rate support so that many small businesses now pay no rates and from this weekend, we are reducing annual rises which will save companies a further £4bn.'. During the leadership race, there appeared to be consensus among  Tory leadership candidates regarding their opposition to high business rates.
However, other businesses have suffered such as the railway arch retailers. Following the £1.46bn sale of Network Rail's 5,261 retail spaces to Blackstone and Telereal Trillium at the end of 2018, many tenants have faced increasing rents. As a result, tenants have been priced out and forced to vacate premises. The large sale of retail spaces may foreshadow future government sales of other public assets in order to reduce budget deficits.
Retailers have attempted to respond in agile and innovative ways, with some capitalising on closures as an opportunity to relocate. One success story has been the rapid opening of many charity shops aided by professionalisation and consolidation in the sector and buoyed by consumer interest in sustainability. These stores typically incur lower fit-out, and indeed labour, costs when moving into new spaces leading to greater flexibility between locations.
Other areas of industry have faced increasing closures such as estate agents with 143 total closures. Competitive and reliable online services coupled with a general slow-down in the property market have reduced the market share of high-street agents. Banks and other financial services have also continued to close outlets as they go digital. In both cases, consumers' increasing reliance on and affinity with online mediums have led to a reduction in store outlets. This strategy has been criticised for leaving behind older or less tech-savvy customers, who are often left isolated from services by branch closures.
There has been a fundamental change in consumer preferences towards shopping and leisure activities. Consumers now commonly use mobile phones while in store to compare product prices. Retailers rely on digital newspapers, social networks and user reviews to connect with consumers. They have become more competitive by offering products from multiple sectors. For example, fresh food can now be found in pharmacies and convenience stores rather than just supermarkets. Another strategy has been entrenching private-label brands. In-store brands focus on the product qualities that consumers desire (often informed by data gathered via loyalty club membership), while eliminating additional expenses. Consumers benefit through often lower prices while retailers earn higher margins than on external brands. Successful retailers have further attempted to evolve the physical shopping experience by turning traditional shops into places of learning and experimentation for customers. Book stores now routinely offer speaker events and a cafe. By adding value to in-store experiences, physical outlets attempt to differentiate themselves from online platforms. However, as retailers have developed their online-presence, they have done so in a way that complements physical outlets, not least by reducing the hassle of deliveries by permitting customers to collect in store. To reduce costs, when goods are ordered by consumers companies  will first consider the likelihood of that good being sold at full price from one of its physical locations before dispatching.
According to the British Retail Consortium, UK retail sales have decreased by 1.7% since September 2018 on a like-for-like basis. In addition, there was a 3.2% decrease in the sale of non-food items in-store, which was greater than the total decline of 2.9% (12-month average). Some producers have begun to skip over retailers and sell their goods directly to consumers. Hire-purchase and after-market businesses also undermine traditional retailer sales.
Following four months of negative sales growth since the end of Q1 2019, Brexit uncertainty appears to be a source of industry-wide anxiety. Chief executive of the BRC, Helen Dickinson OBE stated, 'Clarity is needed over our future trading relationship with our closest neighbours, and it is vitally important that Britain does not leave the EU without a deal'. The uncertainty of Brexit worries food and drug retailers in particular, with uncertainty around potential customs checks increasing fears of disrupted supply chains and delivery delays. In the final quarter of the year as winter approaches, Britain becomes more reliant on imported fruits and vegetables. According to the BRC, Britain imports about half of its food with a third overall coming from the EU, on a just-in-time basis.
Deloitte has surveyed UK consumer confidence levels as four points lower than a year ago. Confidence in household disposable income has remained unchanged while confidence in levels of debt has decreased by 3%. Waning confidence in personal finances may indicate consumers' concern with future economic uncertainty.