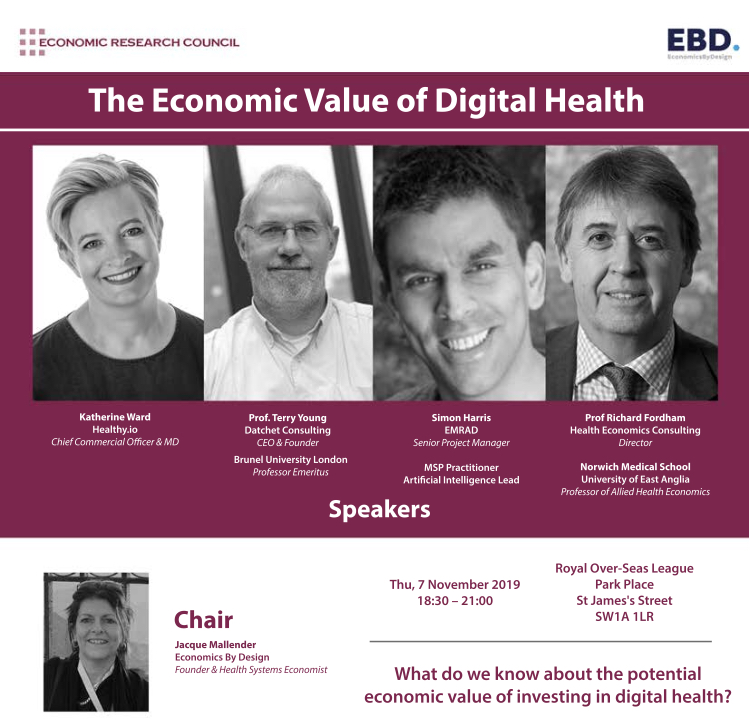 This talk is being held with kind support from Economics By Design.
This event will explore where digital health has the potential to add value to the economy, the taxpayer, patients, carers and families and to wider society. The picture is complex; the digital health agenda is moving forward fast with the spread and adoption of telemedicine, the electronic patient record and smartphone apps, sensors, and wearables for diagnosis, treatment and monitoring. Add to this the increasing use of virtual and augmented reality tools to enable specialist support and training and the adoption of robotics for back-office functions, clinical interventions and rehabilitation. As we develop our increasing knowledge around Genomics, the use of AI and natural language processing these too will become embedded within these technologies offering huge scope for deep analytics driven health and care. But how do digital health providers demonstrate their value impact, how do budget holders justify investments when benefits are to be felt by others and how does government reap the benefits of these investments for the taxpayer.
The talk will take place at Royal Overseas League, Park Place, St James Street, SW1A 1LR from 6.30-pm for drinks, with the speakers beginning their talk at 7pm, time for audience questions from 7.30pm and finishing at 8pm.
Non-ERC members may book their ticket by by clicking here. ERC members, please email aimee@nullercouncil.org to reserve your place or telephone us on 020 3793 7159.
Please note this event is being run the night after another health related event, The Economic Cost of Chronic Disease, with Michael Mosley and Patrick McIntosh. If you'd like to attend both events, you can click here to book double tickets for them. Early bird tickets are £30 for attendance at both events or £40 full price. ERC membership, which offers you a free ticket to each of our events is £80 per annum and will get you to both of these events and 8 more throughout the year, each with high-profile speakers on a range of economics related topics. Please click here to join the ERC.