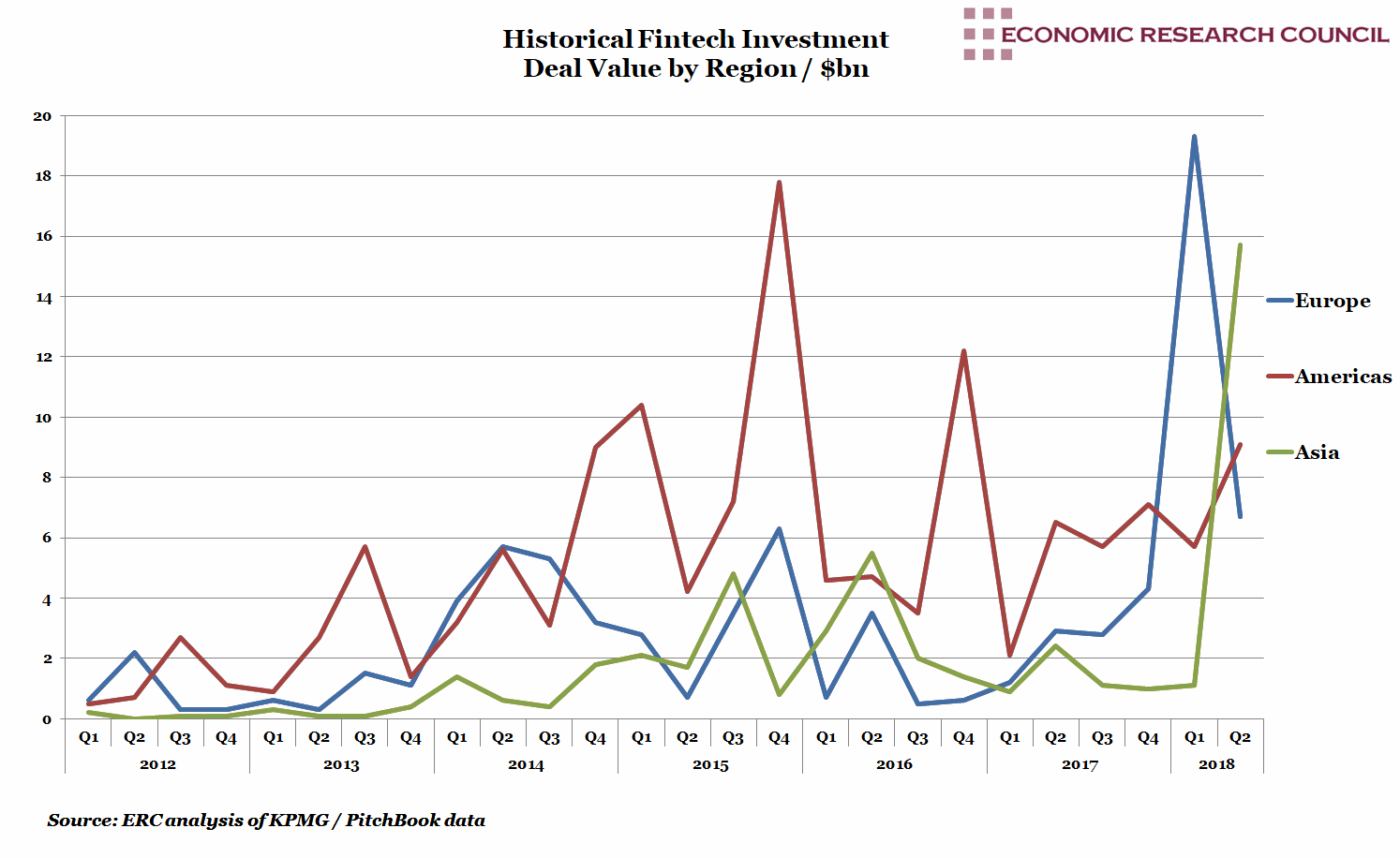 Summary
The chart shows that total global investment in fintech companies for the first half of 2018 reached a peak of $57.9 billion, growth undoubtedly fuelled by demographic changes. Europe contributed 45% at $26 billion, with the UK hosting 4 of the top 10 deals in the region. The region set the highest fintech investment record at the start of the year following steady increases since 2016. The Americas contributed to 25% of global deal value at $14.8 billion, with 96% of this originating in the US. Deals in this region peaked at $17.8 billion in 2015. Since then it has not recovered to the same levels despite a spike in 2016 to $12.2bn. This year, Asia contributed 30% of global deal value at $16.8 billion; almost quadruple their deal value in 2017. Historically, Asia's deal values have been consistently lower than other regions, with only two significant spikes in 2015 and 2016. At their respective peaks, Europe's deal value has increased by over 30-fold since 2012, the Americas' by 35-fold and Asia's by almost 80-fold.
What does the chart show?
The chart shows the total values of fintech investment deals in Europe, the Americas and Asia. The data measures the values by quarter in billions of US dollars, dating back to 2012 and including the most recent data from June 2018. The data originates from KPMG's biannual fintech report.
Why is the chart interesting?
Global interest in fintech investment has been rising due to the appeal of fintech growth potential, as well as the newly developed and cheaper technologies that are increasingly available. This year, the high values were driven by two key transactions. The first was a record-high fundraising round by Ant Financial (the offshoot of AliBaba that handles its mobile and online payments) of $14 billion. The second was Vantiv's $12.9 billion acquisition of WorldPay. Global deal value for the first half of this year already exceeds the 2017 total. Should deal value growth continue at this pace throughout 2018, it will exceed the historical peak of 2015 by some 85%. Fintech investments have been proliferating geographically as well as by sector. Alongside early and prominent fintech adopters such as the UK, US, China and India; this year saw new deals emerge in Brazil, France, Switzerland, South Korea and Japan.
Europe
In 2018, for the first time UK fintech investment value exceeded the US and China and contributed over half (some $16 billion) of Europe's investment total. The high value results from Vantiv's acquisition of WorldPay, a deal of over $12.8 billion. Despite reported Brexit anxiety around investment, the UK's fintech sector appears resilient as VC investors were evidently optimistic, undertaking notable deals at Revolut, eToro, Flender and MoneyFarm. While the government might hope this is attributed to the launch of their Fintech Sector Strategy earlier in the year, it is partly a result of the depreciation of the pound as well as an excess of private equity money and the stage in the market cycle. The report from which this data originates stresses not only the deepening of investment but also the broadening of sectors within fintech in the UK, naming AI and regtech (providing solutions for areas such as Regulatory Reporting, Risk Management and Transaction Monitoring). Scandinavia's fintech sector was notably strong with key acquisitions of iZettle by PayPal and Nordax Group in Sweden along with the purchase of Nets in Denmark. These are apps that manage financial transactions and offer banking services.
Americas
US investor strategy appears to mix both investment in start-ups in emerging fintech segments, along with continued investment in more established companies such as RobinHood. Although the US contributed 96% of deal value in the Americas, Brazilian investors recently hit headlines with the fourth largest deal of a $150 million raised by Nubank, helping them to unicorn status. While this may be an outlier, it highlights the appetite for fintech in the Latin American investment community. Canadian deal values are lower than in the second half of 2017, although investments continue to be made and partnerships developed. Toronto, Montreal and Edmonton are hubs of AI innovation and dominate Canadian fintech. Big Canadian banks have shown recent interest in both robo-advisory initiatives and blockchain.
Asia
$14 billion of the $16.8 billion total deal value in Asia this year arose from a single fundraising round by Alibaba's Ant Financial in China. China and India hosted the top 10 deals of the region while Australia and Singapore also saw quarter-on-quarter investment increases. With four additional $100 million deals, China leads fintech innovation in Asia, aided by tight regulation of the e-payments market (only recently lifting a ban on all foreign companies directly entering). With a large Chinese-origin population and similar macroeconomic backdrop; South East Asia is a target for fintech growth with a high rate of investment between the archipelago, China and Europe. Previously, investors in Asia have favoured established companies dealing with blockchain and AI. This continues, but more interest has recently been shown in newer technologies such as insuretech and regtech. Regtech appeals to those focusing on fraud prevention across the region, but is particularly relevant in India, as it seeks to progress toward a cashless society.
Week 38, 2018