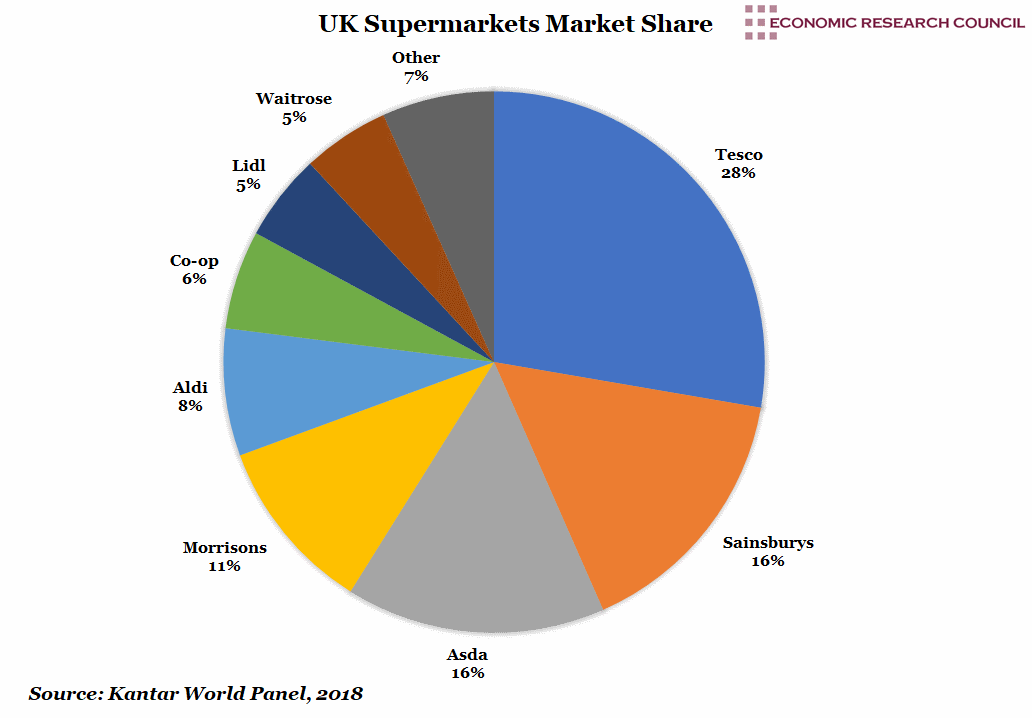 Summary
Last month the UK Competition and Markets Authority delivered a major blow to the efforts of Sainsbury Plc to acquire Asda, the WalMart-owned grocery competitor. The deal would have created the UK's largest grocery store chain, surpassing longtime leader Tesco. Despite the ostensible goal of reigning supreme, this merger reflects underlying trends which have been shaping the UK grocery market for a number of years.
Why is the chart interesting?
The CMA passed down the ruling on February 19th, following a year in which all leading grocers saw their market shares eroded by rising stars Aldi and Lidl. In a plea for a reversal of the decision, Sainsbury's was quick to release data touting a possible 10% overall price decrease in all stores if the deal was to go through. Although some balked at this claim as little more than rhetoric, experts maintain that this is unlikely to sway regulators, even if it were a credible commitment. The decision is largely thought to have been determined by threats to competition and consumer choice. Following such a merger, many areas would be left with only one grocery choice in a market usually characterised by variety and perfect competition. This would most likely have a considerably detrimental impact on the fundamental consumer market for food and other necessities. Agricultural and other food suppliers who already pay considerable premiums for favourable placement of their products on grocery store shelves would also be affected by the decrease in competition between their potential grocery chain buyers.
The seeming desperation of Sainsbury's to insulate itself from competition is far from solely motivated by what is happening at the very top. In the early 1990s Aldi opened its first UK store in Birmingham. Since then, the German discount grocer has steadily been changing consumer food products market as well as eroding Sainsbury's and Tesco's long held positions at the top. Initially underestimated because they were thought to be beneath British consumers' preferences, discount stores have displayed the fastest growth as of late. Boosted by recessionary pressures and low wage growth, grocers such as Aldi and its counterpart Lidl now boast broader offerings than ever before. However, in light of their business model and the source of their competitive advantages; this statement should be qualified. A consumer food market strategy pioneered by owners Karl and Theo Albrecht, stores such as Aldi offer a limited selection which contrasts from more the more mainstream approach of maximum variety. Larger grocers offer a myriad of different brands and types of each product and also offer in-house butcher, fishmonger and pharmaceutical services to name a few. By cutting such amenities and offering minimal lines of each particular good, Aldi and its contemporaries are able to significantly slash supply and labour costs.
In response to this new strategy, UK consumers have also noticeably changed their behaviour. Many go relatively frequently to discount grocers in order to buy essentials and then top up every once in a while, on more specific items at fancier retailers and farmers' markets in a 'gourmet-fication' of tastes. As a function of its success, Aldi has been able to slowly expand its offerings from around 600 items to 2000, meaning that its customers have to rely progressively less and less on its competitors. The results have been striking. While Aldi and Lidl average one new UK location per week, Morrisons has had to close locations, Sainsbury's has attempted to merge with Asda and slash prices, and Tesco has reduced product variety and is rolling out its own discount grocer, Jack's. As it turns out, UK consumers are not as 'snobbish' as was once perceived. In a similar manner to Europeans and Americans, they are willing to hold their nose when presented with the unpolished appearance of discount stores in order to take advantage of the fast service and large savings.
Despite the long-held supremacy of the top performers, the consumer grocery industry has proven that it is, and will continue to be, competitive as well as innovative. In the mid- to long-run, companies such as Sainsbury's and Tesco will need to rely on something other than the proliferation of market power in order to remain competitive, or else they will fall victim to the creative destruction phenomenon.
Week 12, 2019