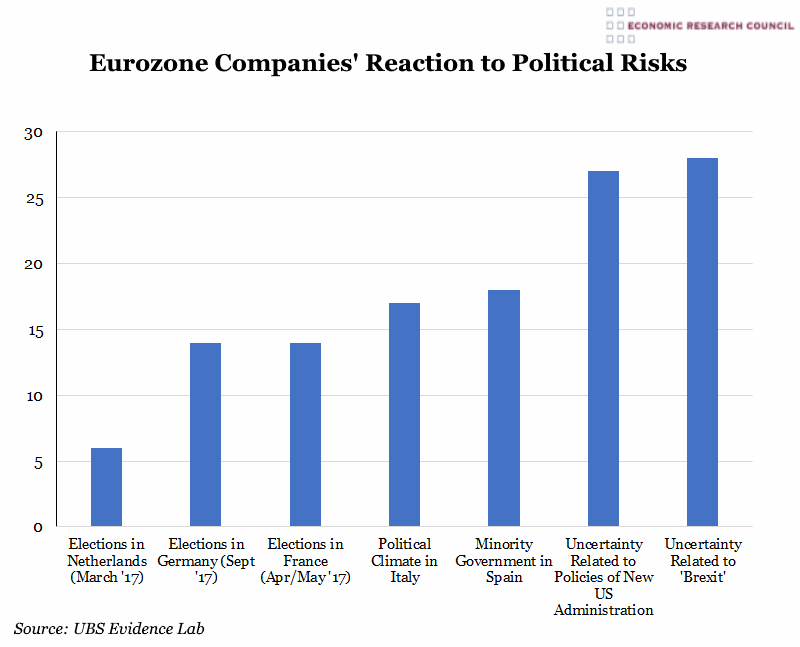 Summary
While 2017 will see a number of different political risks coming to the fore, what is clear is that uncertainty about both Britain's new relationship with Europe and the future policies of the Trump administration are perceived to pose the biggest risk to Eurozone businesses (27% and 28% of respondents respectively). 
What does the chart show?
The chart reflects research undertaken between 10th January and 13thFebruary, in which 600 Eurozone-based firms were polled on their attitudes to 2017 political risks. 74% of companies polled had UK investments and the companies were all based in either Germany, France, Italy or Spain. The respondents (from 150 firms per country listed) all had decision-making responsibility or understanding of their companies' investment strategy. The data shows the percentage of respondents against the right hand axis citing the political risks detailed. The report authors noted that firms were likely to rate risks in their own countries more highly than abroad. 
Why is the chart interesting?
Ahead of the triggering of Article 50 on 29th March, the poll results suggest that businesses are exercising caution where UK domestic exposure is concerned. Only 14% of those surveyed cited France's election as a significant concern, despite staunch Eurosceptic Marine le Pen's vows to renegotiate the country's relationship with the EU. Whether this fearfulness about Brexit among Eurozone businesses will have any substantive effect is unclear, as 54% of respondents stated that Brexit was unlikely to affect their investment strategy.
To learn more about the impact of Brexit and Trumponomics, please do come along on Wednesday 29th March to hear from Keith Wade. Further information is here.