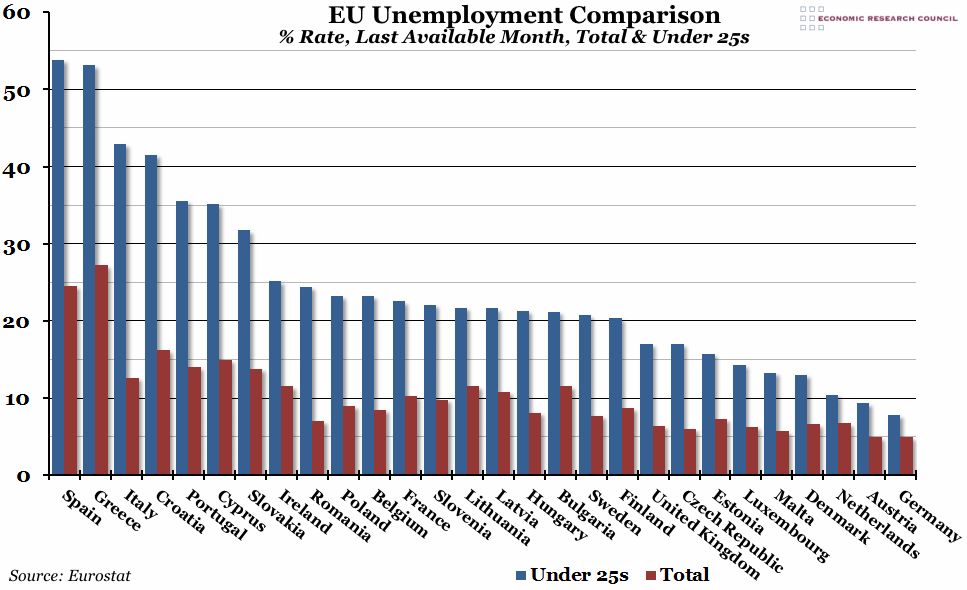 Summary
Eurostat published their unemployment update at the end of last week, showing that the rate across the EU28 has fallen from 10.9% last year to 10.2% in July. However, for young people that average figure is 21.7%, and there are certain areas within the EU that are particularly bad for youth unemployment.
What does the chart show?
The chart shows the latest available unemployment rate (the percentage of people who are looking for a job but who can't currently find one) for each of the 28 EU countries. The red bar shows the total unemployment rate, while the blue bar shows the unemployment rate for people aged under 25. For most countries, the latest available data is for July 2014, with a few exceptions: for Estonia, Hungary, and Latvia, it is June; for the UK and Greece it is May.
Why is the chart interesting?
Although overall unemployment is highest in Greece at the moment (where they have a rate of 27.2%), youth unemployment there has improved, granting Spain the dubious honour of having the most unemployed young people in the European Union. The biggest drop in youth unemployment over the past 12 months was achieved by Croatia, who managed to reduce youth unemployment by more than ten percentage points. Unemployment may be improving across most of the EU, but there is still a big divide between young and old, as well as geographically. It is not quite as simple as saying that the northern countries are doing better than the southern ones, but many countries around the Mediterranean aren't providing their young people with enough opportunities at the moment, while Germany and Austria continue to lead the way.