Elizabeth Truss MP 
Chief Secretary to the Treasury
12th June 2019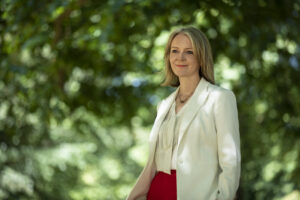 Liz Truss is Chief Secretary to the UK Treasury, responsible for keeping a tight rein on public spending. She is currently working on the UK's post-Brexit economic strategy including a three year plan for public spending and a package of supply side reforms.
She served as Justice Secretary where she was an advocate of prison and judicial reform. She also served as Environment Secretary.
As Education Minister she introduced greater rigour to the school curriculum and exams. She was first elected in 2010, establishing the Free Enterprise group of Conservative MPs which champions free markets, a smaller state and low taxes. She also supports the Freer initiative for economic and social freedom.
Brought up in Leeds, she studied Philosophy, Politics and Economics at Oxford University and worked at Shell and Cable & Wireless prior to entering politics. She is married with two daughters.
Non-members can book their tickets by clicking here. ERC members please email aimee@nullercouncil.org to reserve your free place.
Royal Overseas League, St James's Street, SW1A 1LR. 6.30pm – 8pm.