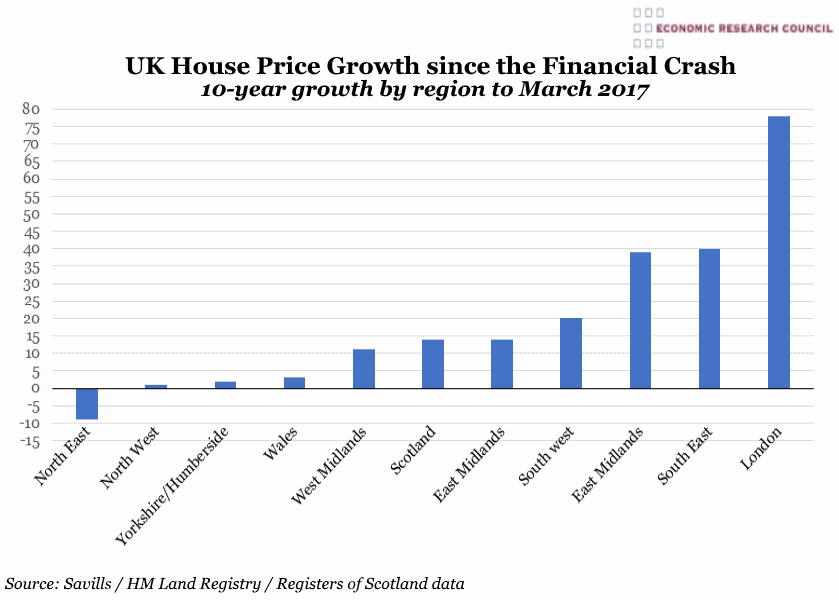 Summary
This chart shows that London house price growth over the last decade has far outstripped all other regions in the UK, with areas of staggering growth such as Hackney, which rose 120%. At 78% city-wide, in the last decade London house price growth stands at just shy of twice the level of the next highest growth regions and in stark contrast to deprived areas such as Hartlepool which fell by 24%.
In 2007, the average UK house price was £181k with average new mortgage rates at 5.88%. By 2017 the average new mortgage rate was 2.04% and the average UK house price was £210k (or £292k in 2007 rising to £478k in 2017 in London). First-time buyers in 2007 needed to earn on average £34k annually whereas in 2017 they require an average income of £40k (for London these figures are £52k and £64k respectively).
What does the chart show?
The bars display the percentage change in house prices by region (excluding Northern Ireland) in the decade between March 2007 and March 2017.
Why is the chart interesting?
Exorbitant London house prices have also supported dramatic rises of approximately 50% in certain commuter-belt zones which were previously very low value such as Harlow, Slough and Stevenage. There continue to be great disparities within geographical areas. For example, Edinburgh house prices experienced nearly 30% growth which is almost double the Scotland average. Similarly, Aberdeen house prices grew above average for Scotland, but were sensitive to oil price fluctuation, growing 44% until March 2015, but then falling 9% in the two subsequent years. Affordability in the south of the country is an ever-increasing issue, with urban centres such as Oxford, Cambridge and Brighton experiencing high growth in the last decade. With interest rates expected to rise, the question of affordability will become more pressing.
If you are interested in learning more about the UK's recovery since the crash, particularly on the banking sector, why not come to Professor Kevin Dowd's lecture on 14
th
 September. More info 
here.
If you'd like to learn more about the UK property market, specifically Build-to-Rent investments, then come along to our event: 'Your Property: Boom, Bust or Beyond your Means?'. We have some fantastic speakers confirmed including the Deputy Mayor for Housing and Head of Major Projects from Grosvenor. More info can be found 
here
 or below.