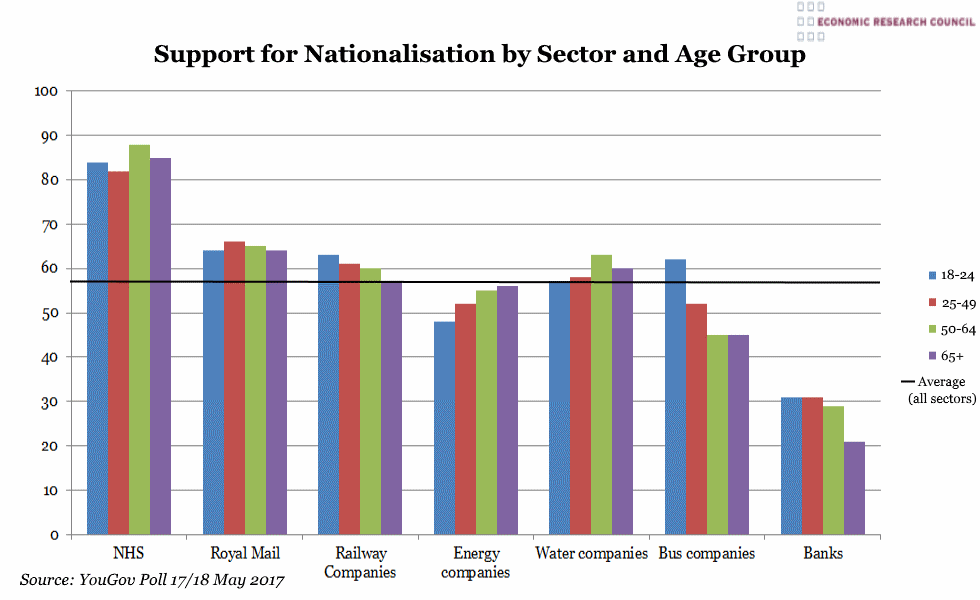 Summary
With the topic of nationalisation forming a significant part of current debate in the run up to the general election, a survey that gathered information regarding support for nationalisation has formed the basis of this week's chart. Recent figures have shown a surge in the registration of around 2 million voters aged 18-24 year olds, so this age group's views are particularly interesting. When all displayed sectors are averaged, 57.3% of the sample wish the services shown to be nationalised or to remain in public control. Although opinion polls cannot be treated as a source of conclusive data, they may highlight slightly more contentious sectors by certain age groups based on their own experiences and needs.
What does the chart show?
This chart uses figures from the results of an opinion poll carried out by YouGov on the 17th and 18th May 2017 with just under 2000 representative respondents. They gathered information regarding support for nationalisation by age group. Each bar represents the percentage of the given age group who support the public management of each sector, which are detailed along the horizontal axis. The blue bars represent 18-24 year olds, the youngest voters; the red bars represent 25-49 year olds who are most likely to be in employment; the green bars represent 50-64 year olds and the purple bars, those aged 65+, probable retirees and pensioners who nonetheless have the highest voter turnout.
Why is the chart interesting?
As has been well established over many electoral cycles, public support for the NHS to remain in full public control is very high (well over 80%), making policy changes in this area a politically hazardous move for any party. The area with the least support for nationalisation is banking, and may be due to the electorate's distaste for public money flowing into the banking system post-bailout. The transport sector, broken down here into separate sections for rail and bus companies, sees high support for nationalisation. Perhaps this is in response to particularly poor service in recent years and no doubt has inspired the Labour pledge to nationalise the rail service. Support for nationalised rail services is highest among the youngest voters, more likely to be supporters of the Labour party. High fuel prices and a lowered appetite for car ownership may also play into the attitudes of the young towards increased government control of the rail and bus network. Older people are more likely to support the nationalisation of energy companies, maybe due to their increased likelihood of suffering from fuel poverty and a belief that, under government control, prices stand a greater chance of coming down.