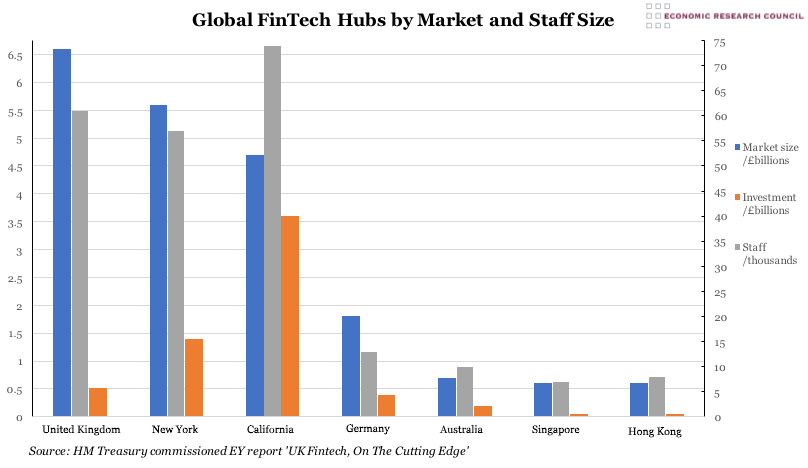 Summary
The FinTech industry in London and in New York clearly benefit from their proximity to global banking centres although London commands the lion's share of the market, estimated to be £6.6 billion. Interestingly, out of the top three FinTech hubs, there is a relative paucity of investment in the UK industry, with only £525 million invested, around a sixth of investment in California and just over one third of that in New York. This may reflect both the maturity of the industry in California and the presence of a larger number of venture capital funds, comprising more seasoned FinTech investors. There is a burgeoning industry in Singapore, which is likely to grow as a result of not just its business-friendly image and use of English, but also the creation of a specialised FinTech team within their Monetary Authority. Similar government awareness of the role of FinTech can be seen in Australia, where the Federal Government has pledged around £500 million towards innovation. 
What does the chart show?
The blue and orange bars, measured against the left hand axis, represent the estimated market size and investment size (in billions) respectively. The grey bars, measured against the right hand axis, show the estimated total number of staff employed by the FinTech industry in thousands.
Why is the chart interesting?
The report notes that the UK ranks first out of these six hubs for its regulatory and policy environment, and recognised the attraction of the UK among top talent. However, concerns about the future appeal of London to FinTech talent have emerged following the Brexit vote, stemming from fear around both the free movement of EU citizens and the 'passporting' rights of banks and FS. Hubs such as Australia, where the hiring of skilled candidates is an industry-limiting factor, are seeking to coax experts to emigrate. Hong Kong is employing different tactics, with the government spending 10 billion HKD attempting to cultivate domestic talent and boost FinTech development, therefor enticing their own young people to gain relevant skills. With an estimated 61 thousand individuals employed by the sector in the UK, the industry will no doubt command significant government attention throughout the Brexit process. Indeed the CEO of Innovate Finance, the trade body for UK FinTech companies, said in January that the organization is 'pushing [the government] hard on this' as the retention of talent is 'critical'.