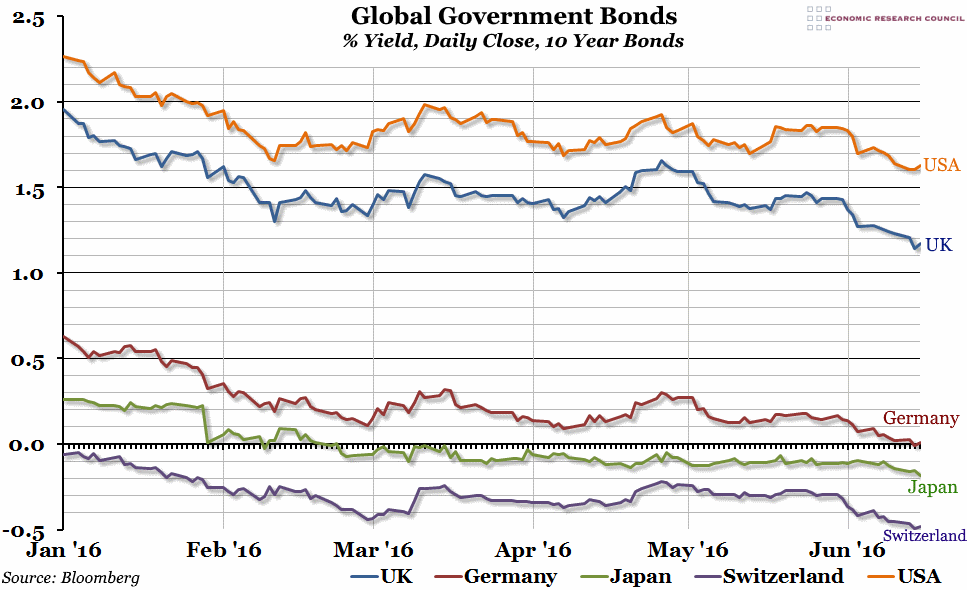 Summary
Government bond yields in most advanced economies reached record lows this week, with ten year German bond yields entering negative territory for the first time ever. Although this is a continuation of a general downward trend, this week's extreme positions look like the result of uncertainty ahead of next week's EU referendum.
What does the chart show?
The chart shows the percentage yield on ten year government bonds (the benchmark measure of the cost of borrowing for governments), as reported at the end of each day of trading, for a number of countries: the UK, Germany, Japan, Switzerland, and the USA.
Why is the chart interesting?
Bond yields across the world fell dramatically this week as investors poured money into the bond market, traditionally thought of as a "safe haven" against global turbulence. Ten year bond yields in the UK closed at 1.144% on Tuesday having reached a new record low during the day, while German yields were negative (-0.004%) for the first time ever.  Japan and Switzerland have been experiencing negative bond yields for a while now, but Japan set a new record, and there are reports that the yield on Swiss 30 year bonds was briefly negative.  Global yields have clearly been on a downward trend for a long time (global economic uncertainty and extreme monetary policy appear to be responsible), but this latest blip has been blamed on market jitters over the apparently increasingly likely prospect of a "Leave" vote in Britain's EU referendum.
Regardless of the cause, long-term government borrowing has never been cheaper in the UK, and we should take advantage of that to fund new infrastructure projects, boosting productivity and economic growth, while we can.