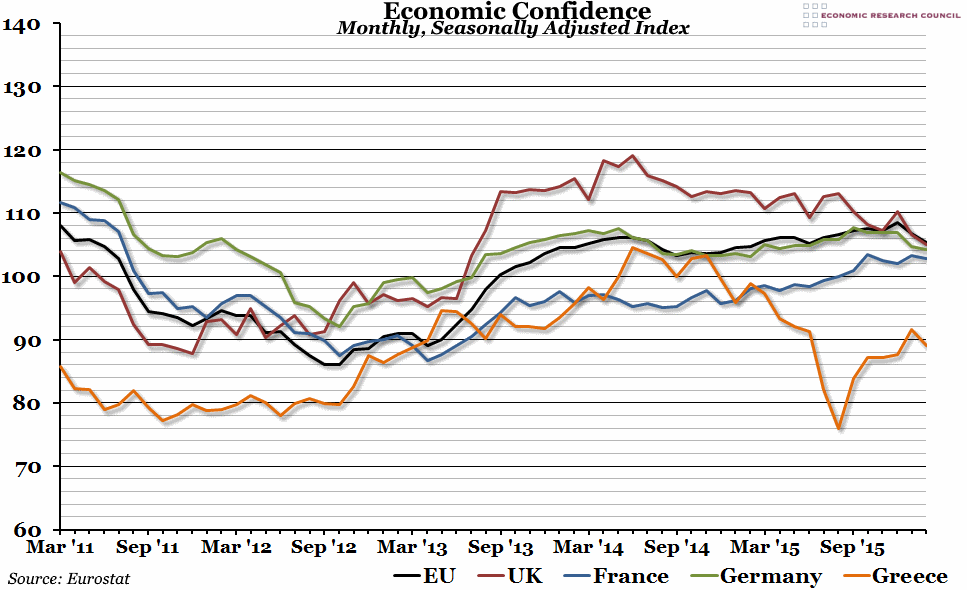 Summary
This week marks the fifth anniversary of the Economic Research Council's Chart of the Week. Over that time, the UK economy has experienced a number of ups and downs, and that is reflected in Eurostat's measure of economic sentiment which features in this week's chart.
What does the chart show?
The chart shows Eurostat's measure of economic confidence, the Economic Sentiment Indicator (ESI), on a monthly basis since March 2011 for a number of regions: the UK, the EU, France, Germany, and Greece. The ESI is a weighted combination of five different sectoral confidence indicators: consumers, retail, construction, industrial, and services.
Why is the chart interesting?
When the Chart of the Week was launched in 2011, the UK economy was in poor shape. Confidence in the economy was lower here than in the EU generally, and for our closest economic competitors. In fact, it was only towards the end of 2012, when the Eurozone crisis was reaching what seemed like a peak, that confidence in the EU dropped below that of the UK. In 2013, the UK enjoyed an economic revival, driven mainly by the service sector, but also to a lesser extent by growing general consumer confidence in the UK's economic outlook.  However, that positivity has been slowly slipping away since 2014, and in the first few months of 2016 the UK has dropped back below the EU average (although confidence is still higher than in France and Germany).
We've also included Greece in this week's graph.  For the past five years, economic problems in Greece have been constantly in the background with the occasional serious incident (such as that of Summer 2015).  However, there have been (brief) periods of hope; indeed, there was an extended period in 2014 when economic confidence in Greece was higher than in France.